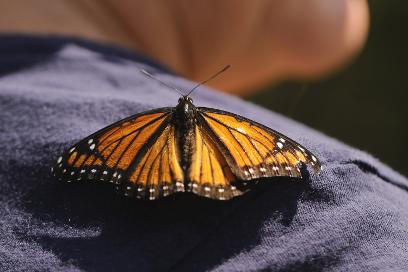 A late-summer Monarch butterfly female. Her eggs have already hatched to become the "Methuselah" generation, the individuals that migrate to their wintering grounds in central Mexico. Photo: Leland M. Searles 2018
THE IOWA PHENOLOGY CALENDAR
Beginning with the 2018 issue, the Raccoon River Watershed Phenology Calendar was renamed the IOWA PHENOLOGY CALENDAR. This change reflects two important trends: increasingly the audience for the calendar lies in other watersheds, and my travels and photographic reach extend across the state.
The information in the calendar applies to most of the state, along with adjacent south central Minnesota, southwestern Wisconsin, western and northwestern Illinois, and far northern Missouri. In my travels, I've noticed some differences in the timing of plant flowering and other happenings, but with regular use you'll figure out the local timing pretty easily.


ASK ABOUT CALENDARS BY VISITING THE Contact Leeward PAGE AND SENDING A MESSAGE
.
Consider calendars as:

* Holiday and birthday gifts.
* Prizes and gifts to employees or another special group

of people, perhaps students or environmental and

science teachers.
* Your personal guide to the outdoors, at home and at

work.

*"Swag" for conferences, employee parties, and other events.

In addition, if you are interested in using the calendar as
a fundraiser for your business or organization
, send a message through the
Contact Leeward
page.
What better way to become familiar with the natural world around you than have a calendar with the dates when things are happening? Photos of Iowa's plants and animals? And more?

The 2019 Iowa Phenology Calendar
is on sale now!
New for 2019

wider coverage of the state and its watersheds
all-new photography
updated bird migration dates and nature-related events
To place an order,

click here

to go to the Contact Leeward page. Follow the instructions about information to include in your message. In most cases I'll respond within 24 hours.
Don't send credit or debit card information by internet. If that's your preferred way to pay, we will use the telephone.

Below you'll find more on phenology, and there are some photo selections from the 2019 calendar.
phenology
Phenology is the study of cycles and patterns in ecosystems. In the broadest sense, it is the transfer of the sun's energy through natural rhythms and life cycles. Usually the focus is on life forms and the seasonal changes they experience, but these account for broader cycles, such as the exchange of water between air and surface.

Many cycles already are familiar, making you and most other humans students of phenology, even if you didn't know that. We are aware of daily or diurnal changes, seasons, bird migration, the flowering and seeding of plants, and other rhythms.
Copyright 2012-2018 Leeward Solutions, LLC. All rights reserved, including for images and text on the site unless otherwise credited. Phone: 515-979-6457.